ProVia Contest Encourages Sharing of Environmentally Friendly Ideas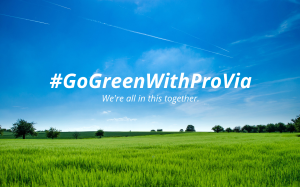 ProVia's #GoGreenWithProVia contest is designed to share ideas for how to become more environmentally friendly. Over the next few months, the company will share, via Instagram, Twitter and Facebook, steps the company is taking to become more environmentally friendly, and encourages the public to do the same. Tag #GoGreenWithProVia in a post that shows how you save energy for a chance to win.
Examples of how we can "go green" include:
Switching to LED bulbs
Walking or biking instead of driving
Collecting rainwater
Ditching paper and going electronic instead
Using recycle bins
One winner will be selected each month and can choose either a Nest Thermostat E or a $150 Visa Gift Card. The contest runs through June 30.
ProVia has been an Energy Star Partner with the Environmental Protection Agency and the U.S. Department of Energy since 2002, and has won 11 Energy Star awards.