New Research: Global Window and Door Markets to Hit $260 Billion by 2024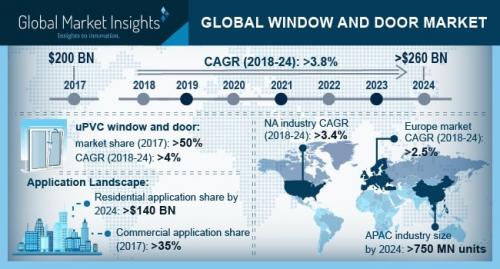 According to a new research report by Global Market Insights Inc., the total commercial and residential window and door market is forecast to cross $260 billion by 2024 with projected gains of 3.5 percent over 2018-2024. Construction industry growth, including both commercial and residential building, is expected to boost market size.
The report suggests that the residential window and door market will contribute more than 60 percent market share by 2024, citing rising infrastructure development activities worldwide as the primary drivers boosting market size. New construction, as well as improvement, repairs and frequent renovation, are likely to witness a strong upsurge during the forecast period as well, positively impacting product demand.
The report cites a U.S. Census Bureau statistic that construction spending has increased over $1.25 trillion and 0.7 percent from the previous year. Lower interest rates and construction of post-natural disaster houses are highly instigating factors stimulating demand across the country, as well as improved government finances that support affordable housing in emerging countries including China, Malaysia, Indonesia and Thailand. Rapid industrialization in several countries is also strongly influencing the construction sector.
The vinyl segment, which Global Market Insights refers to as uPVC windows and doors, registered over 50 percent of the market share in 2017 due to an increasing demand for lightweight, low-cost and energy-efficient products that are available in different colors, textures, laminates and patterns. The report states that products that provide superior sound insulation and thermal insulation benefits are benefiting energy savings especially in eco-friendly houses and buildings, propelling window and door market size.
The full report is available for purchase here.