GlassBuild America Welcome
A Welcome Message from NGA President & CEO Nicole Harris, Glass Magazine, Window & Door
September 13, 2018
Meetings & Events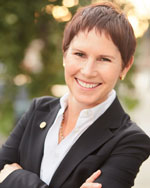 "We had our best month ever," is what I heard from many of you this week. As busy as you are right now, you made the smart business decision to attend GlassBuild America 2018. Nowhere else on this continent can you meet up with our industry's best suppliers, learn about new technology, products and services and connect with friends and new peers to share ideas to help you grow your business.
Bonus: At GlassBuild, you get to do all that in one place in less than one week. Remember to make use of all resources—like the mobile event app—to get the most of your time here.
Like you, NGA is in constant improvement mode. 2018 is a special milestone; it's the first GlassBuild America since the National Glass Association (NGA) and the Glass Association of North America (GANA) combined to form one, unified voice for our industry. Before the trade show opened, our new Fabricating (check out the highlight video here) and Installing Committees met to carve out projects that address the needs of our member companies. Not a member yet? Come to the Association Gathering Place just to the left of the main entrance and ask what we can do for you. We're just 7 months into our combination, and we're just getting started. See you there!
Read more...