Window & Door Announces 2017 Dealer of the Year Award Winners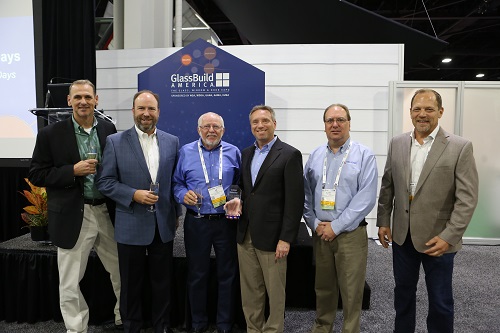 Representatives from Dealer of the Year winners (left to right): Architectural Visions Inc., Weather-Tek, Tom Adams Windows and Carpets, Tundraland.
Window & Door magazine and the Window & Door Dealers Alliance announced the winners of the annual Dealer of the Year awards at a reception at Window & Door Dealer Days on September 13. Window & Door Dealer Days is held at GlassBuild America: The Glass, Window & Door Expo and provides a unique opportunity for owners and top management of retail window and door businesses to learn about current market conditions and best business practices specific to the residential window and door market.
In addition to the traditional keynote speakers and intimate roundtable discussions, for the first time in the history of the event and awards, the WDDA hosted the Dealer of the Year awards reception for the 2017 winners.
"It was a fitting way to close an event centered on best practices and professional development," says Emily Thompson, editor in chief, Window & Door magazine, who also serves as a member liaison for the WDDA. "It was incredible to see all of these companies that are doing amazing things talking to each other about how they want to get better, sharing their ideas about the big issues and, ultimately, helping further the professionalism of our industry."
In the "toast to the many things [you're] all doing so well," Thompson named the winners. "It's always hard to narrow down the well-qualified nominees to our five Dealers of the Year," she says, "but we are excited to have this new tradition to celebrate the spirit of innovation, entrepreneurism, ingenuity and care for others that exists in this pragmatic market. Congratulations to all of this year's honorees!"
To be featured in the October/November issue of Window & Door, the 2017 Dealer of the Year Award winners are: