BRINC Building Products Appoints Director of Sales
Window & Door
October 16, 2018
People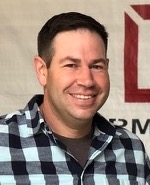 BRINC Building Products Inc., maker of ThermalBuck window insulating buck, appointed Dan Edelman, a high-performance building material professional with more than two decades of experience, as director of sales, U.S. and Canada. His most recent position was northeast regional sales manager for ROCKWOOL North America.
Edelman's expertise is focused on energy-efficient and green-building practices, with an emphasis on moisture management in wall assemblies. His knowledge includes passive house and net-zero energy design principles. Dan is also a certified project management professional.
"Dan offers an impressive background in building science, and a passion for providing solutions to architects and builders. We're excited to have Dan join our team to manage the growth of ThermalBuck,"says John Brooks, president, BRINC Building Products Inc.