Deceuninck Appoints Western Region Sales Manager
Window & Door
March 20, 2018
People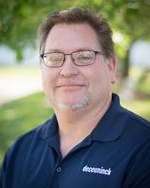 Deceuninck North America
appointed Dave Pirwitz as sales manager of the western region. In this role, Pirwitz will support continued growth with existing customers as well as cultivate new customer business development for Deceuninck's fenestration business in the western United States and Canada.
Pirwitz works closely with team members at the company's facility in Fernley, Nevada, which is now running 24/7, company officials report. Pirwitz has 21 years of experience in the fenestration industry and has served as Deceuninck's Northwest sales manager since 2016.
"As a significant contributor to Deceuninck's strategic business growth in the West, Dave's expanded role provides even greater opportunities to grow the business and to strengthen relationships with our valued customers," says Filip Geeraert, president and CEO, Deceuninck North America.