Soft Tech Appoints Business Development Manager
Window & Door
November 27, 2018
People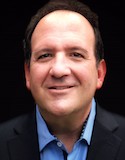 Soft Tech created a new business development manager role based out of the company's Florida office, filled by Ray Imbrigiotta. With more than 25 years of major accounts sales experience, he brings experience in customer-centric sales and a comprehensive understanding of how the use of technology facilitates success, according to Soft Tech. He will work to grow the company's portfolio of fenestration clients in the North American market.
"We are delighted to have Ray Imbrigiotta joining the Soft Tech business to support our growth plans for North America. Ray brings a wealth of experience in both fenestration and technology, so will be well positioned to support our customers to achieve their goals" says Tyron Ball, Group Commercial Director of Soft Tech.
Previously, Imbrigiotta owned and operated a hurricane impact window, door and shutter company in South Florida, Advanced Windows & Shutters. He has a State of Florida Glass & Glazing Contractors License where he sold to small commercial and residential customers.