United Window & Door Manufacturing Inc.: United 8000 Series Window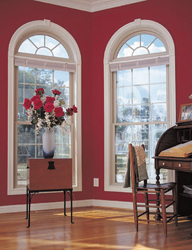 United Window & Door Manufacturing Inc.
Ph: 800/848-4550
Details: The United 8000 Series, available for replacement and new construction, has a 3 ¼ inch main frame and ¾- to 1-inch insulated glass. Featuring triple-fin quad-pile weather stripping and air-tight magnetic seals, it includes a patented sash-to-sill interlock for superior thermal efficiency. Its one-piece watertight sloped sill is said to eliminate weep holes. Offering low-E Smarter glass with Argon, the 8000 Series meets Energy Star requirements for most climate zones. In double hung, picture window, slider and custom shapes.
Key Selling Points: United says its 8000 Series window offers weather resistance, a high-performance balance system, exceptional structural strength and a lifetime warranty. With an optional high-performance glass package, air-tight Magna-Seal, and Lock-n-Tilt hardware, other elements include a high-performance balance system, ergonomic tilt-in sashes for easy cleaning, and contoured lift rails to provide maximum simplicity and convenience to the user. With a variety of modern and timeless interior and exterior color options, the 8000 Series can be configured to achieve up to a DP-65 structural rating.