Intercept 2.5 by GED Integrated Solutions Inc.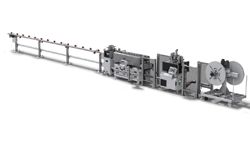 GED Integrated Solutions Inc.
Ph: 330/963-5401
GED's new Intercept 2.5 replaces the GEN I and GEN II Warm Edge Spacer Technology Frame Machines. The 2.5 combines the attributes of the former Intercept GEN II with technological advances of the i-3 Intercept. Incorporating state-of-the-art technologies and enhancements enables the machine to now switch between Intercept Ultra Stainless, ThinPlate and Blackline materials, according to the company. The newly designed servo corner crimper reportedly ensures consistent corner spacer folding and the system is said to perform 15 percent faster than previous generations.