Constant Force Balance System from John Evans' Sons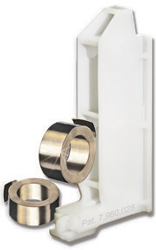 John Evans' Sons Inc.
Ph: 215/368-7700
The SideLoad Constant Force Balance System has a new and improved look, according to John Evans Sons. The company's Constant Force design's sash guide components can now be replaced with sash cams that are out of view and tamper resistant. Constant Force offers reduced operating forces and enables a reduction of on-hand inventory with smaller space requirements, according to the company.