Marvin: Marvin Modern Multi-Slide Door
The new Marvin Modern Multi-Slide Door achieves extremely narrow modern sightlines of less than 3 inches. Available in sizes up to approximately 12 feet tall and 60 feet wide, it has a high-density fiberglass exterior and an aluminum interior. Available with Sliding Door Automatic Control and Marvin's factory-installed Lock Status Sensor, the Multi-Slide Door is available in more than 30 configurations, with stacked or pocket uni-directorial or bi-parting options.
Soft Tech Group: Soft Tech Dealer Module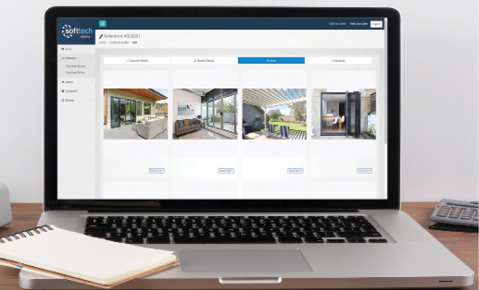 Soft Tech Group
Ph: 954/568-3198
The Soft Tech Dealer Module automates the process of generating proposals and accepting sales orders and allows window and door dealers to create professional, branded proposals for their customers online, configure windows and doors, and in turn create sales orders automatically for the dealer's manufacturer. These sales orders are placed directly into Soft Tech's V6 product to allow for manufacturing without additional information needing to be supplied. Along with a management dashboard view, manufacturers can get a real-time view of their dealer network.
Anthony Innovations: 8000 Series roller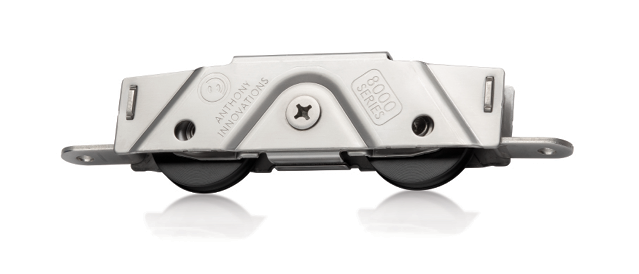 Anthony Innovations
Ph: +61 3 9460-1166
The 8000 Series roller has a load-carrying capacity of 160 kg per roller and the ability to move panels of up to 320 kg in weight. Applicable for all types of systems and materials within its specified weight capacity, the roller is AAMA 906 tested to 320 kg and certified to 10,000 cycles. With the ability to customize mounting tabs and add spacers to the housing, the 8000 Series allows for design freedom.
Glasslam: Sudden Impact Security IG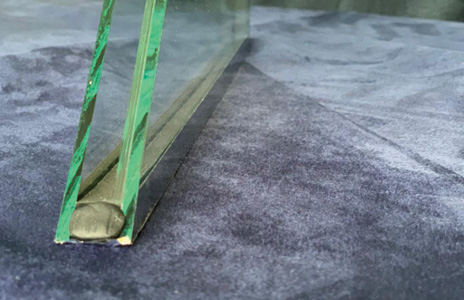 Glasslam
Ph: 954/975-3233
Sudden Impact is a new patented method of turning IG production into dual-purpose security laminated glass. Once an insulating glass unit is produced and selected for security glass, the IG is horizontally filled with a two-component polyurethane resin material to the desired interlayer thickness for protection required. A computer-controlled meter-mix pump and dispensing machine is the heart of this method of creating an inter-layer for protection. U-shaped IG spacers and PU flexible foam spacers are top candidates for this system.
ProVia: FineLine Technology for Endure Vinyl Patio Doors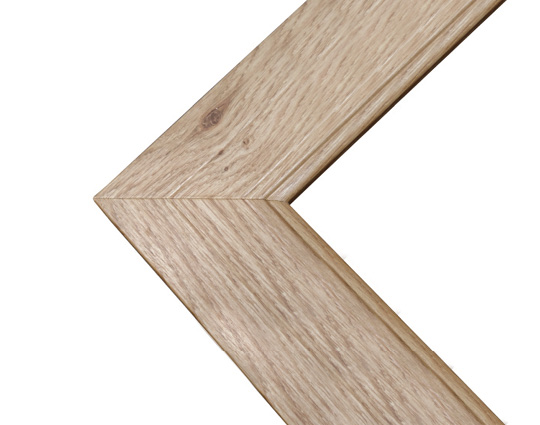 ProVia developed its FineLine Technology to produce a straight, clean weld line on Endure Patio Door corners to achieve a "picture frame quality" look on the sashes. FineLine's process is used to tuck the two ends of the corners together and create a neat, seamless look. FineLine Technology comes standard on all laminated Endure Patio Doors with the option to upgrade on white, beige and sandstone vinyl.
Vision Hardware: Dual Auto-Lock WOCD Venting Tilt-Latch System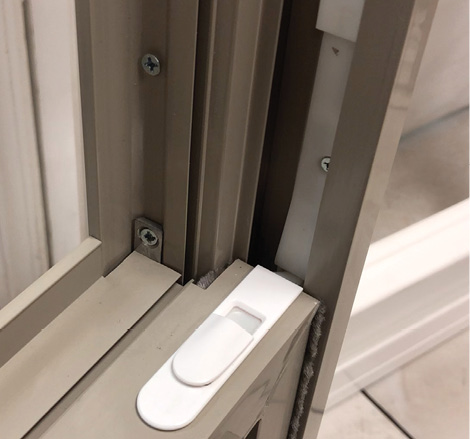 Vision Hardware
Ph: 800/220-4756
The Vision Auto-Lock Tilt-Latch System does not require standard locks and keepers. The sash locking mechanism is built into the tilt latch and concealed in the jamb as is the WOCD and venting functionality. It is compatible with block and tackle or constant force balance systems and installs quickly and easily whether using a routed, top mount or submarine-style tilt latch, according to the company.
ODL Inc.: Blink RLT - Top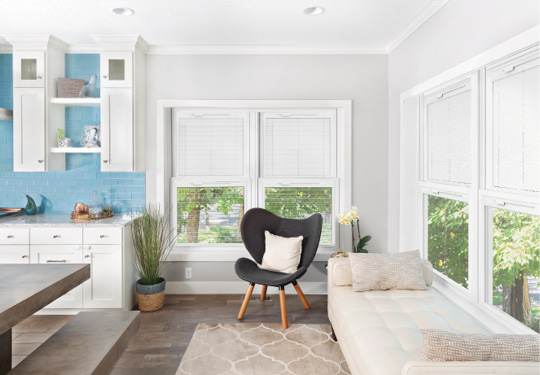 ODL Inc.
Ph: 616/772-9111
This product allows consumers to raise, lower and tilt blinds between glass with a single operator. This is ODL's first entry into a single or double hung window with an integral blind product. The blinds are built in increments of 1/16-inch up to 12 square feet. The product is available with six different low-emissivity options; consumers also have the option of using NEAT glass. The blinds come in six colors for consumers to match the exterior or interior of the home.
Veka Inc.: Corsair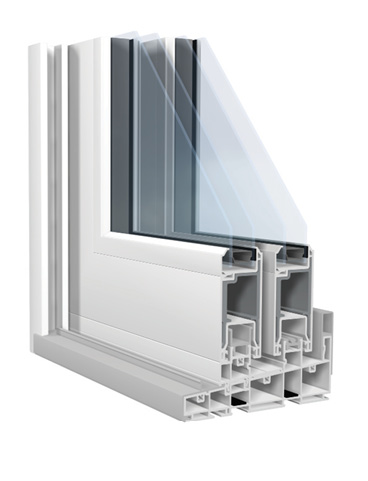 Veka Inc.
Ph: 724/452-1000
The Corsair is a strategically designed saddle-style door that glides on a vinyl rail and heavy-duty stainless steel rollers. With quiet operation and durability, the Corsair features VEKA's optional FeneXseal technology to ensure proper installation and defend against water infiltration. VEKA's Corsair door is customizable for new construction or replacement use in two-, three- and four-panel configurations to eight feet high. The Corsair delivers performance with its 1 ¼-inch IG capacity, a DP50 class rating and impact capability.
Okna Windows: HiMark 1000 Series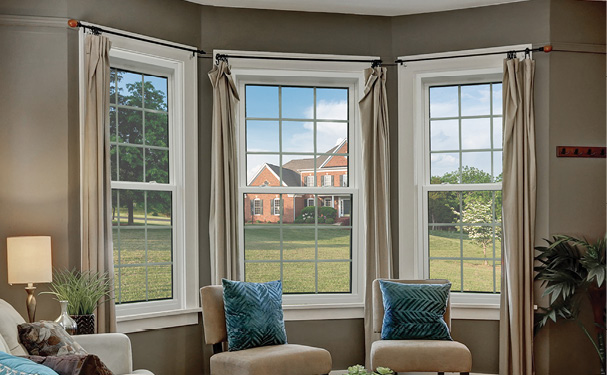 Okna Windows
Ph: 215/788-7000
The HiMark 1000 Series sash is assembled using hidden, butt-joined welds to simulate a wood window. It is built to use a 1 3/8 -inch triple pane IGU. Features include double hung and slider locks with six hidden screws; an EZ Glide, aluminum track and ball bearing wheels on sliders; and heavy duty casement hardware capable of supporting a 140-pound sash.
Quaker Window Products: OptiCore TimberLine and CityLine Window Series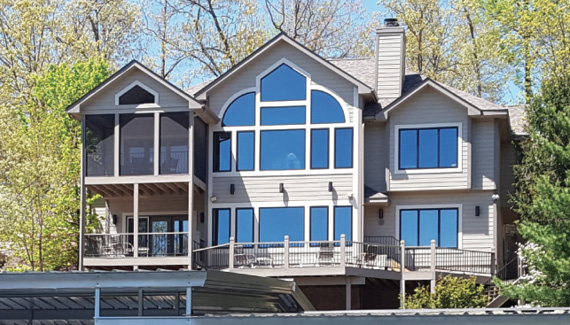 Quaker Window Products
Ph: 800/347-0438
OptiCore is Quaker's patented technology that is incorporated into its TimberLine and CityLine Window Series. OptiCore Enhanced Architectural Aluminum Frame offers maximum thermal and structural performance, according to the company. Assembly is fully automated and computer-controlled to lock each mitered frame corner to exact specifications. Sealant is robotically injected into the dual corner keys and an automated system lays down a precise glazing bead before lowering glass into frame for a consistent seal.