Top 100 Manufacturers 2018 Report
Window & Door's annual Top 100 Manufacturers list details North America's 100 largest manufacturers of residential windows, doors, skylights and related products, based on sales volume.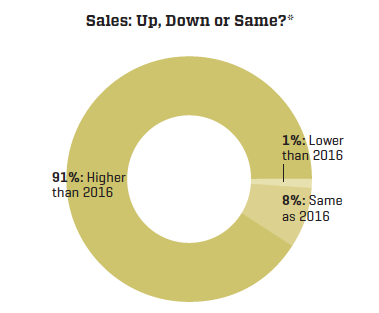 Much of the information comes from companies directly, which our research team verifies and fact-checks. We also rely on this research to fill in the blanks of those that do not participate in our survey. While our annual Industry Pulse survey looks at the industry as a whole (information published in the January/February issue), the information published here provides stats specifically regarding companies on our Top 100 List. It is important to note, however, that the overarching theme of the Industry Pulse echoes the sentiments of this report: the industry is healthy, moving in a direction of growth.
Themes
While the industry has seen much consolidation in the past decade, the Top 100 Manufacturers haven't changed drastically in the past five years. Though we saw some major brands pick up other manufacturers to diversify offerings, simplify distribution and/or strengthen market share, the acquired companies weren't, in most cases, on previous Top 100 lists.
Here is a quick recap of that M&A activity involving our Top 100 Manufacturers from 2017:
Jeld-Wen purchased MMI Door in the U.S.; as well as international companies the Kolder Group in Australia and Domoferm in Austria
Pella acquired Bonelli Windows & Doors
Masonite acquired A&F Wood Products
Dunes Point Capital added on to portfolio company Harvey Industries with Soft-Lite at the end of 2016; Harvey Building Products acquired Thermo-Tech in March of 2018 (reflected in this year's list)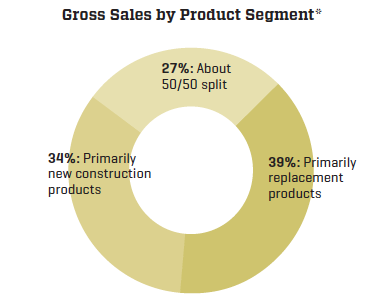 2018 has already seen some notable acquisitions involving Masonite, Andersen, Ply Gem and Jeld-Wen, to be noted in next year's Top 100 List.
Looking from year to year, it is also evident that business is looking good for our Top 100. We've seen downward movement in the past, but saw companies generally moving up our sales categories this year. Just one of the Top 100 Manufacturers that completed our survey reported that sales in 2017 were lower than in 2016.
As stated in our annual Industry Pulse article published earlier this year and confirmed by the select group of manufacturers listed here,
vinyl continues to dominate the offerings on the market. Our estimate is that about three quarters of the manufacturers on the list are primarily manufacturing vinyl goods. In terms of the door manufacturers on the market, the majority are producing fiberglass, but steel and wood both maintain healthy market share, especially in the high-end space.
We asked those on our Top 100 list about their trials in 2017 and the answer is not surprising: recruiting, hiring and training the workforce remains the biggest challenge. Keeping up with customer and market demands is another struggle related to the labor issue, as well as managing growth, maintaining efficiency and contending with rising material costs.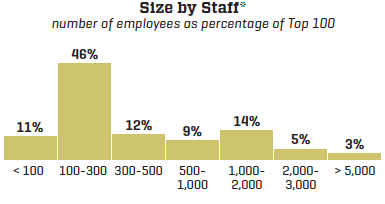 Despite ongoing labor issues, our Top 100 Manufacturers are employing tens of thousands of workers. The majority of the companies in our top five categories (sales between $100 million and over $1 billion) employ between 1,000 and 2,000 workers. The highest of those that reported employment statistics was 5,600 employees; the lowest number of employees reported is 50.
Editor's Note: Further insights and more detailed information on the companies listed here is provided in the Top 100 Report, available for purchase at windowanddoor.com/store. Specific information about the companies that is relevant to window and door dealers is provided in our Dealer Edition of the report, available to members of the Window & Door Dealers Alliance.
The List | Quick Glance
Over $1 Billion

Andersen Windows & Doors*

Jeld-Wen*

Marvin Windows and Doors*

Masonite*

Pella Corp.*

Ply Gem*

Velux USA*

YKK AP America Inc.*

$500 Million to $1 Billion

Milgard Windows & Doors

PGT Innovations

Therma-Tru Doors

$300 Million to $500 Million

Alside*

Atrium Windows and Doors/Atrium Corp.*

MI Windows and Doors

Starline Windows

Woodgrain Millwork*

$200 Million to $300 Million

All Weather Windows

Champion*

Polaris Windows & Doors

Sierra Pacific Windows

Steves & Sons Inc.

Weather Shield Mfg.*

$100 Million to $200 Million

Atis Group Inc.

Cascade Windows

Crystal Window & Door Systems

Custom Window & Door Systems

Earthwise Group LLC

Four Seasons Solar Products*

Harvey Building Products

Kolbe & Kolbe Millwork Co.*

Plastpro*

ProVia

Quaker Windows and Doors

Western Window Systems

The Window Designs Group

$50 Million to $100 Million

Amsco Windows*

Anlin Window Systems*

Croft LLC*

Durabuilt Windows & Doors

Fenplast

International Window Corp.

Loewen Windows and Doors*

NewSouth Window Solutions LLC

Northeast Building Products

Robert Bowden Inc.*

Simpson Door Co.

Sunrise Windows and Doors

Thompson Creek Window Co.

United Window & Door Mfg.

Wallside Windows

Wincore Windows and Doors

$30 Million to $50 Million
Amerimax Windows & Doors*

Arcadia Custom*

Assura Windows and Doors*

Avanti Industries LLC

Gerkin Windows and Doors

Inline Fiberglass Ltd.*

Lincoln Windows*

Lux Windows and Glass Ltd.

Midway Windows & Doors

Novatech*

Okna Windows Manufacturing

RSL Inc.

Semco Windows

SIW Windows and Doors

Stanley Doors*

Tru Tech Doors

Vinylmax Windows

Vista Window Co.*

Viwinco Inc.

ViWinTech Window & Door Inc*

Vytex Windows

Win-Dor

$15 Million to $30 Million

Air Master Windows and Doors*

Altera Windows & Doors

American Exteriors*

Comfort Windows*

Gilkey Window

GlassCraft Door Co.*

Hayfield Window & Door Co.

Ideal Window

Kasson & Keller*

Kensington HPP Inc.

KV Custom Windows
& Doors Ltd.*

Madero Distribution

Mathews Brothers Co.

Moss Supply Co.

North East Windows USA Inc./Quality Lineals USA Inc.*

NT Window Inc.

Peter Kohler*/Kohltech

Solar Innovations Architectural Glazing Systems

Sun Windows Inc.

Taylor Entrance Systems

Thermal Windows & Doors LLC

Thermal Windows Inc.

Vinyl Kraft Inc.

Less than $15 Million

Burris Windows

Climate Solutions Windows & Doors

Seaway Mfg. Corp.

Survivorii Windows Inc.